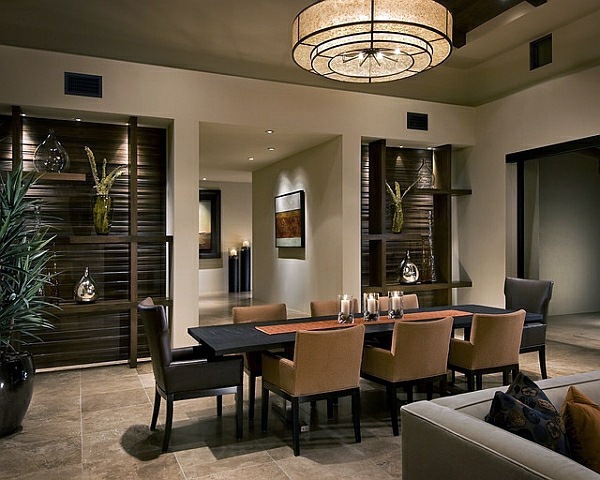 The world may be moving at an astonishing pace these days, but there should always be time for a leisurely, laid back gathering of friends over dinner.
Whether you like to go formal and enjoy the sophisticated type of dinner party, or prefer a more casual affair with emphasis on relaxing good times, there is no doubt that the dining room is still the focal part of the night. The way we eat may have changed on a day-to-day basis, but when it comes to dinner parties, we still like to sit around a communal table – and that is why it is essential to think about what that room is going to look like.
You don't necessarily need to overthink how you are going to impress your guests, but part of the enjoyment of an occasion like a dinner party is everyone interacting, and the way a dining room is set out plays a big role in that. Unlike other parties, your guests will largely remain in the dining room, so you will need to make it look its best.
Here are five tips on creating a stylish – and enjoyable – dining room.
Furniture ideas
Think about the furniture. You want your guests to be as comfortable as possible, but why not think about the look of the chairs they will be using? You could mix and match for an interesting look – or use a grander chair at the head of the table to evoke a more traditional feel. Even in the smallest room, your guests will need to be able to move, so take into consideration their comfort when arranging your lay out.
Color effect
You may not want to completely change the look of your dining room for every single occasion, but deciding on a color scheme can make a space look completely different. If your dining room is mainly muted whites or creams, then you could introduce a splash of color, perhaps in the form of seat cushions, for an eye-catching contrast. Depending on the room, you could also experiment with different kinds of drapes or wall hangings as well.
Table servings
You might think that the food, conversation, and company, are the most important factors of a dinner party, but to show forethought, you should concentrate on what the food and drink will be served in and how it complements the table and room as a whole. Even the most sophisticated dinner parties need simple, elegant dinnerware to enhance the serving, and crystal glassware always sets off a table perfectly.
Nordic style
Keeping up to date with all the latest trends and fashions can not only be tiring, but can also put you in a financialbind! It is a good idea to find a style that you really like and add to the look of your dining room accordingly over time. That way the style doesn't look too forced and your guests will feel that they are attending a dinner party in someone's house, not the pages of a lifestyle catalogue. That being said, if you are one of the many fans of Scandinavian style, there are plenty of outlets that can help your dining room look like it is in Copenhagen or Stockholm. A natural color palette is good here, with your furniture striking the perfect balance between design and functionality.
Light up the place
You may not want to constantly change the lighting of your dining room, but it definitely plays a big part in how your dining room will look, and how your guests will enjoy themselves. You should take into consideration what time of year, and day, you are having your dinner party, but even in the darkest months, you should shy away from overtly stark lighting and go for a softer feel. You also need to take into consideration where the lights or lamps are placed, so that they are not in the way, or restricting the view of your guests. Once again, you should choose bulbs and lighting that complements the style of the room for the best effect.
Creating a stylish dining room to enjoy entertaining in does not have to be an expensive experience, but if you concentrate on some of these areas, then you should be able to produce a room that your guests will love. Of course, a big part of your evening's success will come down to the food that is prepared, but you will have to sort that out yourself!