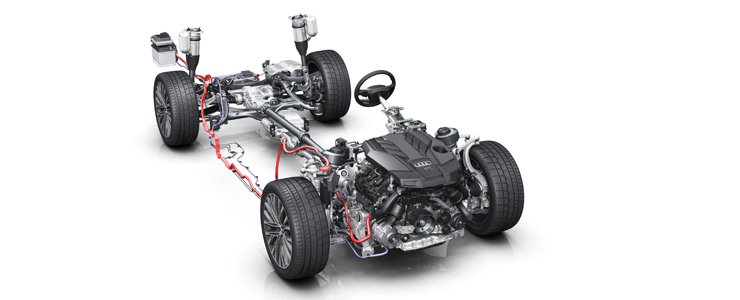 The new Audi A8 is advancing electrification on a broad front. In the next model generation, the flagship will – for the first time – feature an electrified powertrain as standard. To that end, the combustion engines will be equipped with mild hybrid technology. What this means for the customer is refined running and enhanced performance, coupled with greater efficiency. The basis is the 48V electrical system, which features for the first time in the new Audi A8 as the primary electrical system.
The mild hybrid drive comprises two main components – the water-cooled 48V Belt Alternator Starter (BAS) and the conventional pinion starter. The latter is only required for cold starts in the new Audi A8. Then there is the lithium-ion battery in the luggage compartment to act as the energy accumulator for the mild hybrid electric vehicle with a 10Ah charge carrier capacity and a 48V system. The advantage of the BAS becomes particularly clear when the driver approaches a red traffic signal or a roundabout.
If the traffic signal turns green during braking while the vehicle is coasting to a stop or if a gap appears for the driver to weave into, and the driver releases the brake, the combustion engine is started immediately. The car accelerates without any delay. This is all thanks to the BAS being permanently connected to the combustion engine. The new Audi A8 makes its world debut at the first Audi Summit in Barcelona, Spain on 11th July.